Jane Armstrong's report for the Globe and Mail has this misleading headline: "Strait Talk: The Plan To Rename The Sea".
As discussed here Tuesday, remedy no "renaming" is required. No existing names are retired, because there is no name for the inland sea under discussion.
James Neville chimes in with his two cents, as well:
Bert Webber is renewing his pitch to combine the Strait of Georgia, the Strait of Juan de Fuca, and Puget Sound under the moniker "Salish Sea" (Strait Talk: The Plan To Rename The Sea – B.C. edition, online; May 20). Though these bodies of water share many ecosystem components, they differ significantly in such practical matters as wind direction and speed, and tidal flux.

Given that they are really parts of the Pacific Ocean (but for Vancouver Island), why add another layer to the naming convention? The claim that "most scientists refer to the waterways as the Salish Sea" is open to question; as a biologist practising in B.C.'s coastal areas, I've never heard another scientist use this term.
Sailing vessel Adventuress is a favorite of mine. Pictures of her periodically appear here at Puget Sound Maritime.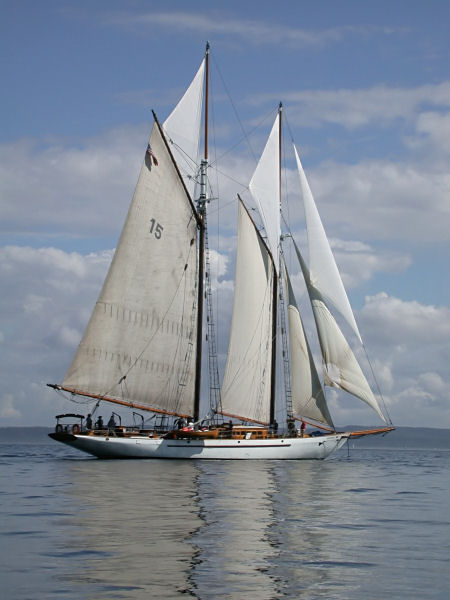 [Photo courtesy John Kohnen]
Anyway, illness
Craig Hill has this article over at the Tacoma News-Tribune:
Sure, drug
it's pretty cool being the captain of a tall ship.

But for Josh Berger, it's not enough. He wants to teach people about the environment, too.

"That's what I like about the Adventuress," he said. "I get to do both. It's perfect."

The Adventuress, a 133-foot, two-masted schooner, bills itself as "Puget Sound's Environmental Tall Ship."

The 96-year-old ship arrived in Tacoma Wednesday afternoon and will stay in Commencement Bay until Wednesday so its 15-member crew can teach youth about sailing, the ship and Puget Sound.

On Sunday, the ship will be open to the public for free tours from 9 a.m. to noon. At 1 p.m. the Adventuress will set sail for a three-hour cruise. Tickets for the public sail are $40 for adults and $20 for those 18 and younger.