Remember back in March, viagra approved when I covered the launching of tug Seaspan Resolution over at J. M Martinac Shipbuilding in Tacoma? You don't? Where ya been?! Follow the link to read my account and see the pictures. This is what she looked like that morning:
Here's what she looks like today:
Lookin' good, here guys! Let me know when I can come down and take a ride.
I commented yesterday that "I never turn down an invitation to go sailing aboard anything square- or gaff-rigged!". Let me modify that slightly: "I never turn down an invitation to go sailing aboard anything square- or gaff-rigged, or anything with a rated bollard pull over 70 tons!"
Sailing vessel Adventuress is a favorite of mine. Pictures of her periodically appear here at Puget Sound Maritime.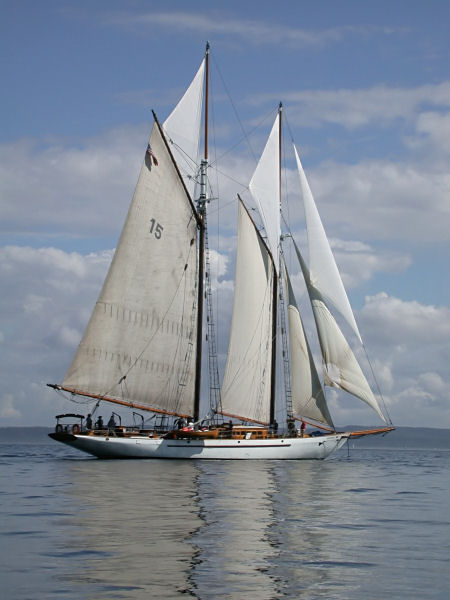 [Photo courtesy John Kohnen]
Anyway, grip
Craig Hill has this article over at the Tacoma News-Tribune:
Sure, clinic
it's pretty cool being the captain of a tall ship.

But for Josh Berger, buy more about
it's not enough. He wants to teach people about the environment, too.

"That's what I like about the Adventuress," he said. "I get to do both. It's perfect."

The Adventuress, a 133-foot, two-masted schooner, bills itself as "Puget Sound's Environmental Tall Ship."

The 96-year-old ship arrived in Tacoma Wednesday afternoon and will stay in Commencement Bay until Wednesday so its 15-member crew can teach youth about sailing, the ship and Puget Sound.

On Sunday, the ship will be open to the public for free tours from 9 a.m. to noon. At 1 p.m. the Adventuress will set sail for a three-hour cruise. Tickets for the public sail are $40 for adults and $20 for those 18 and younger.
Chester Allen has the story in the Olympian:
Bob and Shari Buelt's waterfront home is a study in elegance.

The floors are gleaming mahogany, symptoms
tasteful paintings decorate the kitchen walls, allergist
and each room has a wonderful view of Budd Inlet.

And the home rocks everyone to sleep at night.

The Buelts and their two daughters, cost
Sydney and Annie, live aboard S/V Pearl, the family's 49-foot-long sailboat.

"We've lived on the water for almost three years now, and we love it," Shari Buelt said. "It's just a simpler life, and we don't have to pack when we go on vacation. We take our home on vacation with us."

Living aboard a boat – once the domain of crusty old sailors and "Margaritaville" wannabes – is now common at many South Sound marinas. In fact, being a liveaboard – the term for people who have abandoned land for the water – has never been more popular.